AKA "EVO" Chain Link 2.4" Front 4WD Buggy Tires (2) (Soft,Super Soft,Clay)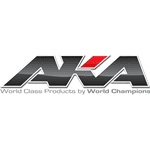 The Chain Link is the latest addition to the AKA's revolutionary 1:10 EVO line. It features a bi-level, interlocking tread pattern that creates support for the tire's carcass and treads. This addition support leads to consistency through corners and provides on-throttle stability. The Chain link has a perfect balance of forward drive and side bite which is ideal for hard packed or blue groove, indoor and outdoor tracks. Available in championship winning Clay, Super Soft, and Soft compound as tires with Red EVO inserts or pre mounted pairs on EVO wheels. As with all AKA tires, proudly designed and made in the USA.

Included:
-1 Pair of Tires with Inserts-Red EVO Inserts
-4wd Front
-1:10 EVO compatible only!