XRAY T4 2018 1/10 Electric Touring Car Kit w/Aluminum Flex Chassis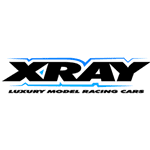 Xray have introduced the 2018 version of their highly popular T4 1/10th scale 4WD electric touring car. Like in recent years Xray have carried out some subtle updates and revisions to the platform with the most noticeable change to the 2018 variant being the all-new Ultra Low Profile ULP shock – probably the shortest coil-over dampers to find on a 1/10th touring car. 4mm shorter than the SLP the ULP were developed to lower the CG of the car even more to further improve handling. With the ultra short shocks the T4 is meant to stay flatter, making it easier to drive through chicanes in high-grip conditions and making the car more resistant to traction rolling, letting the driver carry more speed through high-traction sweepers while the steering response and corner.
This version of the T4 comes standard with the optional aluminum flex chassis CNC-machined from premium Swiss 7075 T6 aluminum and are black coated and laser engraved.