Hudy Universal Exclusive Set-Up System (1/10 Formula)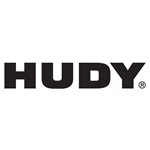 Having the best car set-up is one of the most important factors in winning races. The Hudy Set-Up System is the best and most popular set-up tool in the RC world!
Precision-machined, high-grade aluminum components allow quick, easy, and accurate set-up of your RC touring car.
Set-up System is used for adjustment of:
• Toe-in and toe-out
• Steering throw symmetry
• Steering angle adjustment