Exotek 190mm USGT P-Zero GT Body w/Wing (Clear)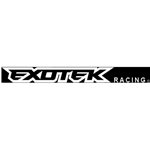 USGT approved!
190mm 1/10 GT polycarbonate body and wing set.
Exotek is excited to bring you our first body for the highly competitive USGT / GT classes!
Designed for domination with an aggressive splitter, flared fenders, low slung hood, downforce inducing side skirts, compact cockpit and extra rear spoiler elements for the most aggressive aero package with minimal drag.
Please note: All bodies are sold in crystal clear Lexan and are painted for advertising purposes only.