ProTek RC Aluminum LED Pit Light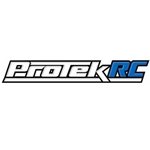 The ProTek R/C LED Pit Light features convenient touch sensitive controls with three color temperature modes and six adjustable brightness/dimming levels.
Incorporating 32 high-powered LED's using around 11 watts of power, the LED Pit Light provides clean, stress-free lighting equivalent to a 100 watt incandescent bulb. The LED technology eliminates the harsh whites of florescent lighting and high-heat commonly associated with close proximity lighting.
With an elegant, stylish, foldable and rotatable design, the adjustable joints can be placed in almost any position without tightening or loosening knobs or screws, simply move the light to where you need and the lamp will hold to form.
POWER NOTE: The light will need to be powered from the included USB cable, 12V DC power source (like a power supply) or a LiPo battery.