PROTOform F26 Body (Clear)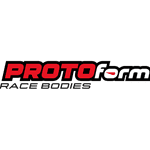 PROTOform is excited to usher in a new line of race bodies for your 1:10 Formula 1 car, focusing on all-out performance, high downforce and easy fitment. Say hello to the F26.

The all-new F26 takes inspiration from one of the most radical and progressive designs that full-scale open-wheel racing has ever seen. A wide, channeled nose provides more front-end grip, balanced by side winglets that plant the rear of your car. Towards the back of the body, a rear deck area featuring a spur gear cover directs airflow efficiently to the rear wing.
Please note: All bodies are sold in crystal clear Lexan and are painted for advertising purposes only.