Hudy "Star-Box" On-Road Starter Box (1/10 & 1/8)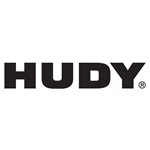 The HUDY Star-Box is a unique starter box designed for 1/10 & 1/8 nitro on-road cars; the ultimate star among all starter boxes on the market! This world's lowest, ultra-compact starter box design has a very light weight, only 575g / 1.27lb (w/o batteries). Uniquely designed support bracket recesses into the starter box to allow the starting wheel to be fully engaged. Adjustable backstops allow you to fit 1/10 and 1/8 on-road cars.
The Star-Box has an ultra-cool stylish design and comes fully assembled, ready to use. The premium quality, long-life drive belt system runs off a powerful 775-type motor (with fan) which is powered by two standard-size 7.2V battery stick packs (not included). The CNC-machined aluminum housing has a high-quality black-coating for extra durability. Countersunk housing screws are recessed with surface to eliminate unwanted protrusions.