Protoform Chevrolet Corvette ZR1 Touring Car Body (Clear) (190mm)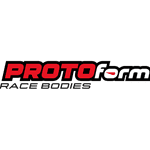 It's the baddest 'Vette of them all: boasting 755 horsepower and a top speed of 212 mph, Corvette™ ZR1 is an American supercar without peer. PROTOform now brings the most extreme street car Chevrolet® has ever built to 1:10 scale with their release of the ZR1 body for 190mm touring cars.
Please note: All bodies are sold in crystal clear Lexan and are painted for advertising purposes only.