Hudy Universal Tire Balancing Station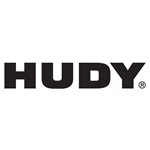 The compact Universal Tire Balancing Station for 1/10, 1/8, 1/6 and 1/5 wheels allows you to quickly and easily balance car tires by identifying the heaviest part of the wheel so that proper balancing aids can be applied. This also helps to identify improperly glued rubber tires or differences in inserts. Precision-balanced tires will improve your car's traction and stability, and also give improved shock absorber action.
The super-stable base board securely and firmly holds the balancing wheel adapter, and the smart clamping system ensures that the wheel adapter does not bind and can rotate absolutely freely. The high-quality, high-precision ball-bearings used in the wheel adapter are degreased and lightly oiled for ultra-fine wheel rotation, helping to identify even the smallest inaccuracies of the tire balance.